CIRRO Fulfillment Elevates Peak Season Efficiency with Hai Robotics in Germany
CIRRO Fulfillment, a global e-commerce fulfillment company, and Hai Robotics, a pioneer and leader in Autonomous Case-Handling Robot (ACR) Systems, partnered in September 2023 to integrate robotics technology into its German fulfillment center in time for the holiday season.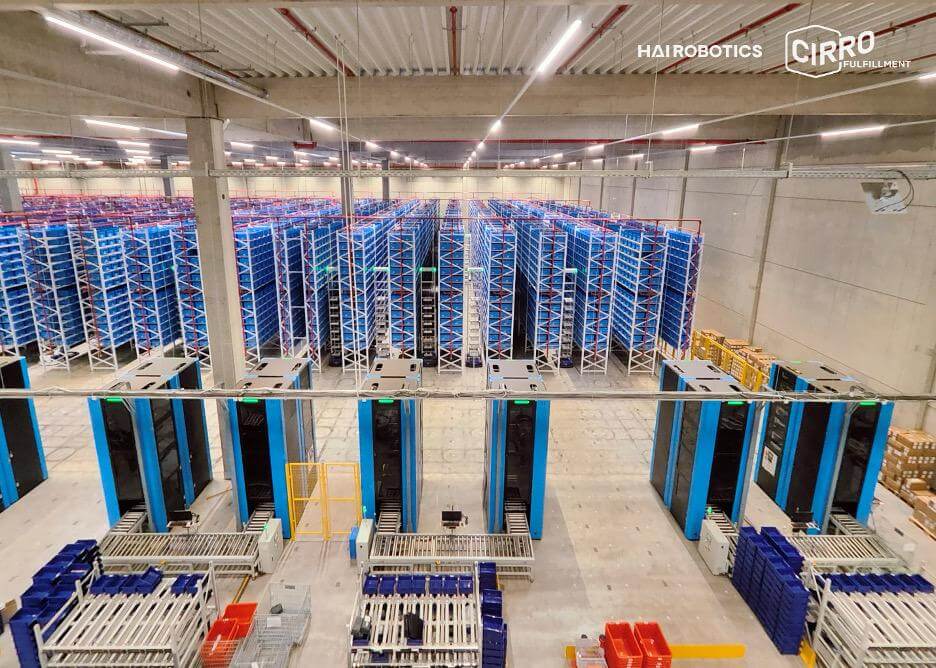 The advanced fulfillment center covers an area of 6,500m² with a storage volume of 3,348m³. It features 45 A42L robots for order picking and eight A42T robots for shelving and automated stocking. The picking robots can handle payloads of up to 240kg and operate at a top speed of 1.5 meters per second.
By implementing robotics-driven operations, CIRRO Fulfillment is projected to enhance workforce efficiency by an estimated 30%, with a maximum daily outbound volume up to 21,000 items. The robots can swiftly transport items to skilled workers for picking and packing in one go, ensuring fast and accurate order processing and dispatch. This innovative approach reduces handling time and enhances operational capabilities, resulting in faster delivery and increased customer satisfaction. The overall shopping experience is seamless and expedited.
"Our partnership with Hai Robotics showcases our dedication to being at the forefront of innovation. It improves the customer experience and signifies a significant transformation in efficiency and accuracy, setting a new standard for e-commerce fulfillment operations," said Hong Li, Head of Sales at CIRRO Fulfillment.
"We are thrilled about our collaboration with CIRRO Fulfillment. The application of our fully integrated solution, blending ACRs and AMRs, represents a milestone in the use of versatile robotics technologies in e-commerce fulfillment operations for the EMEA region," said Sean Wang, Sales Director at Hai Robotics EMEA.
About CIRRO Fulfillment
CIRRO Fulfillment is an e-commerce fulfillment provider tailored for omnichannel and dedicated to offering comprehensive and fast-responsive fulfillment solutions. CIRRO Fulfillment has achieved 1,200,000 square meters of global storage space, including two intelligent fulfillment centers in the US and the UK that use AMRs.
For more information, please visit: www.cirrofulfillment.com
About Hai Robotics
Hai Robotics, a global pioneer in ACR Systems, delivers intelligent and efficient warehouse automation solutions through robotics and AI. Our 2015 innovation, HaiPick, was the world's first ACR solution. With over 1,000 global projects serving 30+ countries, we combine international experience with local expertise to offer tailored, top-quality solutions.
For more information, please visit: www.hairobotics.com