HAI ROBOTICS to Present Local UK Team and ACR Systems at IMHX 2022
HAI ROBOTICS will display its ACR systems for the first time in the UK at the upcoming IMHX 2022 in Birmingham from Sep. 6-8. During IMHX 2022, the company will present its local UK team.
HAI ROBOTICS will display its ACR systems in the UK for the first time at IMHX 2022 from Sep. 6-8. During the exhibition, the company will present its local UK team.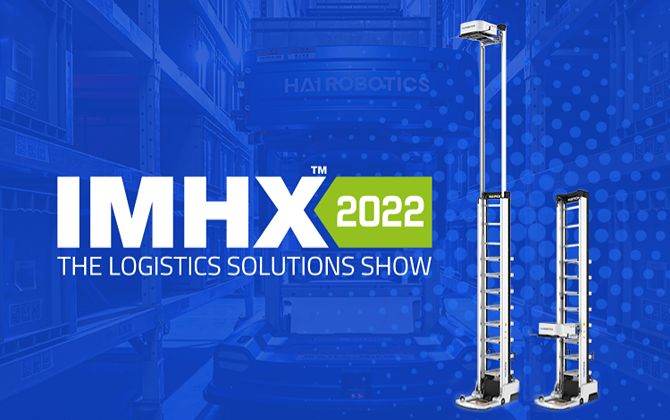 HAI ROBOTICS will display its Autonomous Case-handling Robot (ACR) systems for the first time in the UK at the upcoming IMHX 2022 in Birmingham from Sep. 6-8.
During IMHX 2022 the company will present its local UK team, including Damien Skinner, Country Manager, and Nikil Bharakhada, Solution Engineer.
Considered a disruptive innovator, HAI ROBOTICS is committed to gathering global talents to push forward the progress of human civilization using robotics technology. Its ACR systems are highly efficient Goods-to-Person solutions designed for totes and cartons transportation and process optimization, providing efficient, intelligent, flexible, and cost-effective warehouse automation solutions that can "massively increase efficiency" in the supply chain.
The Show
HAI ROBOTICS is gearing up to present its state-of-the-art ACR systems at one of the biggest logistics solutions shows for professionals who manage, operate, and optimize supply chains across the UK.
The live demo at booth 5C70 will be led by HAIPICK A42T, one of the tallest robots in HAI ROBOTICS' ACR systems, with a standard picking height of 8m, which can be increased to over 10m depending on the application. Featuring a telescopic mast, the robot can also descend to as low as 0.28m to pick totes and cartons stored on the bottom level of the shelf. It can carry 8 loads simultaneously and feed workstations. The robot has been titled the "Best in Intralogistics" in IFOY 2021.
Local Support
Since the establishment of its regional headquarters in the Netherlands in late 2021, HAI ROBOTICS has expanded its presence quickly into several European countries, such as France, Germany, Spain, Italy, Benelux, and the UK.
The company has quickly set up a local team, most of whom are experienced in the logistics automation industry.
Damien Skinner, Country Manager UK & Ireland, said:
"Our aim at HAI Robotics UK Ltd is to establish ourselves in the local market for the long term. Working with a select number of partners, we are able to offer solutions that can grow with our customer's needs and be supported throughout. As well as our portfolio of ACR technology, we are able to offer scalable, flexible solutions, intelligent control systems, post-implementation support, and even flexible financing models."
The Right Fit
Warehouse automation solutions are in high demand, and it's not hard to see why. Squeezed by the ongoing e-commerce boom and a global labor shortage crisis, companies need these technologies to boost fulfillment speed and accuracy at a time when adding people is no longer an option.
Compared with existing, especially traditional, warehouse automation solutions, HAI ROBOTICS believes its ACR systems can deliver extraordinary benefits for UK customers. The ACR systems provide more flexibility in terms of expansion ability. It exponentially increases operational efficiency while requiring less time to implement and being more cost-effective than traditional automation solutions.
HAI ROBOTICS' target industries mainly include 3PL, retail, & e-commerce, fashion, and FMCG. The ACR solution is specially catered to handle products in these markets.
To see HAI ROBOTICS's ACR systems live, please visit Booth 5C70, at NEC Birmingham, UK, from Sep 6-8, during IMHX 2022.
ABOUT HAI ROBOTICS
HAI ROBOTICS, the pioneer in Autonomous Case-handling Robot (ACR) systems, is committed to providing flexible, intelligent, and efficient warehouse automation solutions through robotics technology and AI algorithms. It aims to create value for every factory and logistics warehouse. The HAIPICK ACR system, independently developed in 2015, is the world's first of its kind. Founded in 2016 in Shenzhen, China, HAI ROBOTICS now has more than 500 projects globally and offices in the U.S., Europe, Japan, Southeast Asia, Australia, Hong Kong and Taiwan, serving customers from more than 30 countries and regions.