Hai Robotics Helps Top 3PL Warehouse in Hong Kong Realize Ultra-high-density Storage
Hai Robotics realized that the importance of storage density to logistics warehouses will continue to increase and the team started the research of the double-deep ACR HaiPick A42D. The first project was launched in a top 3pl Hongkong warehouse and started operations in May with HaiPick A42D robots.
As one of the most important free-trade port cities, Hong Kong offers an attractive global logistics network. Many cross-border e-commerce companies rent warehouses in Hong Kong to transfer goods. However, realizing global trade in this international city is no easy task due to the rising rental cost. How to reduce costs and increase efficiency has become the main challenge of warehouse operations.
In 2018, Hai Robotics realized that the importance of storage density to logistics warehouses will continue to increase with the rise of warehouse rent. This customer-oriented approach prompted the team to start the research and development of the double-deep case-handling robot (ACR) HaiPick A42D.
After a series of product iterations, the first HaiPick A42D was ready for operations. In March 2020, the first project was launched in a top 3PL Hong Kong warehouse and started operations in May.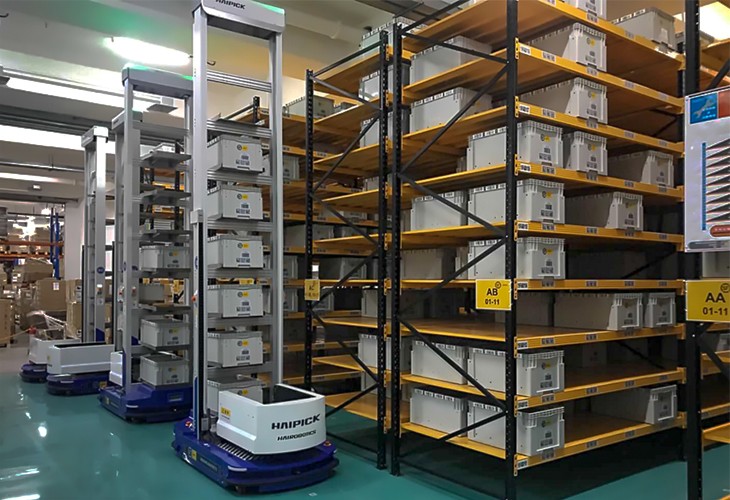 Double-deep Shelving for Ultra-high-density Storage
Based on a warehouse height of 4.3m, Hai Robotics provided a customized design with 4m high shelving and 4.2m high HaiPick robots to optimize the used space. The warehouse's two-row design with parallel double-deep shelves can effectively increase storage density and achieve 14.5 cases/square meters. Ultra-high-density storage is 2.3 times the traditional manual warehouse, which perfectly meets the needs of the customer.
A New Method of Picking Goods, Improving Picking Efficiency
The First-in, Last-out (FILO) principle of double-deep shelving limits product accessibility to some extent. Because of this, the industry generally adopts swap-on-shelving, where goods get picked first and then moved to another location to access the second-row item, which is time-consuming. The HaiPick A42D uses its self-developed swap-on-robot technology, allowing the robot to store the goods on its tray and access the second row, saving time and achieving efficient operation.
Intelligent Inventory Location Optimization, Higher Goods Rotation
In addition to picking optimization, Hai Robotics provided tailored hot/cold location management to match the businesses' demands. For example, in the warehouse business industry, improving the selective picking process of popular goods results in higher inventory rotation that improves storage density and efficient warehousing operations.
Remote Implementation, Smooth Online Service
The project took place in Hong Kong during the global pandemic. Hai Robotics worked along with Hong Kong partners to provide remote implementation services for customers. This method allowed the project to go live smoothly. Global partners, remote implementation, and guidance capabilities are important components of the Hai Robotics service.