Hai Robotics Adapts Leadership Structure to Best Support a Rapidly Growing American Market
As of May 10(th), the American Leadership Team at Hai Robotics USA advances on a global scale and as the company deepens its investment and dedication to the U.S. market.
Richie Chen, the founder and owner of Hai Robotics, will assume the role of U.S. General Manager, Brian Reinhart, formerly the Vice President of Sales, Solutions & Marketing, will take on the role of Chief Revenue Officer, and Brian Zheng, formerly the U.S. General Manager, will move forward as the Vice President of Operations.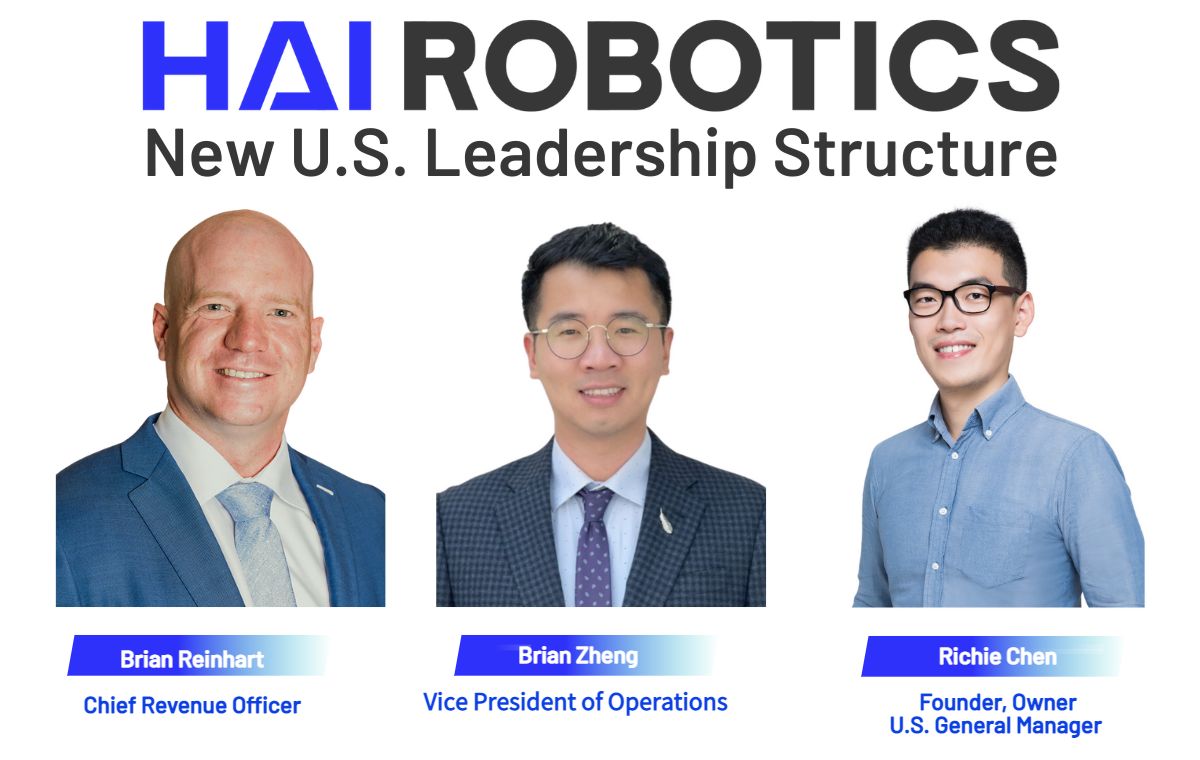 Hai Robotics and Hai Robotics USA proudly announce these exciting advancements in their upper leadership to better support the rapidly growing North American market and best meet the demands and needs of customers here.
When asked about the growing American market and Hai Robotics' developing leadership structure to support it, Brian Zheng explains, "Leadership is about adaptability and strategic thinking. Sometimes, changing a leadership structure can be the key to unlocking new opportunities and achieving greater success. As I transition from General Manager to VP of Operations, my focus remains steadfast on fostering collaboration between the U.S. and our global entities and driving increased investment in the US for Hai Robotics."
With the founder of Hai Robotics taking on a direct leadership role for Hai Robotics USA, and the elevation of Brian Reinhart and Brian Zheng, the North American market is expected to take on more of a leading role in the direction and development of the company.
"I am excited to take the role as GM of Hai Robotics USA." Richie Chen stated. "The US market is one of the most important markets of Hai. I look forward to working side-by-side with the rest of our American-based team to create the best value for our North American customers. We will also continue to develop and improve our industry leading ACR solutions based on the needs of this market."
"This is a very exciting time for Hai Robotics US. Our growing presence in the market, consistent order intake, and ever-growing network of customers, partners, and clients demands the full focus and attention of not just our US group, but our Global Organization." said Brian Reinhart. "I'm very excited to work closer with Richie on the day-to-day operations of Hai US, and alongside Brian Zheng as we further strengthen our coordination and collaboration with our Global HQ and other global entities. This new structure allows us to provide immediate reinforcement of our US operations while allowing us room to grow and scale in the short and mid-term, ever focusing on our customers, employees, and partners."
Hai Robotics is a leading global provider of intelligent automated storage and retrieval systems (ASRS). Advanced Autonomous Case-handling Robots (ACRs) are the core equipment that operates Hai Robotics ASRS solutions. These robots are independent of any storage medium, meaning they free facilities of the rigid constructs of shuttle or grid-based systems and the high costs of their required unique, high-precision storage structures and containers.
ACRs are intelligent enough to manage ASRS created from structures readily available on the market. Facilities can utilize almost any industry standard shelving or racking structure that provides ideal density and use of vertical space, use most sizes of bins, trays, or cardboard cartons that fit the needs of their product, and design a system that provides amplified workflow speed, accuracy, and efficiency.
ACRs manage the storage and retrieval of goods in vertical space 5x higher than standard AMR technologies, up to 10m (32+ feet high.) They provide the unique combined advantages of the system flexibility typically seen with AMR or AGV technology while allowing facilities to obtain modern warehouse density with maximum use of vertical storage, and the workflow efficiency and speed gains seen in shuttle or grid-based systems while utilizing industry standard storage material.
By utilizing these robust robots for their ASRS solution, facilities have seen a reduction of storage footprint by 75%, workflow efficiency gains increase by 4x, order pick accuracy of 99.9%, and an increase of daily orders fulfilled by over 170%.
To know more about Hai Robotics, their ACR-driven ASRS, or their new North American Leadership Team, visit hairobotics.com.