HaiQ

Software Architecture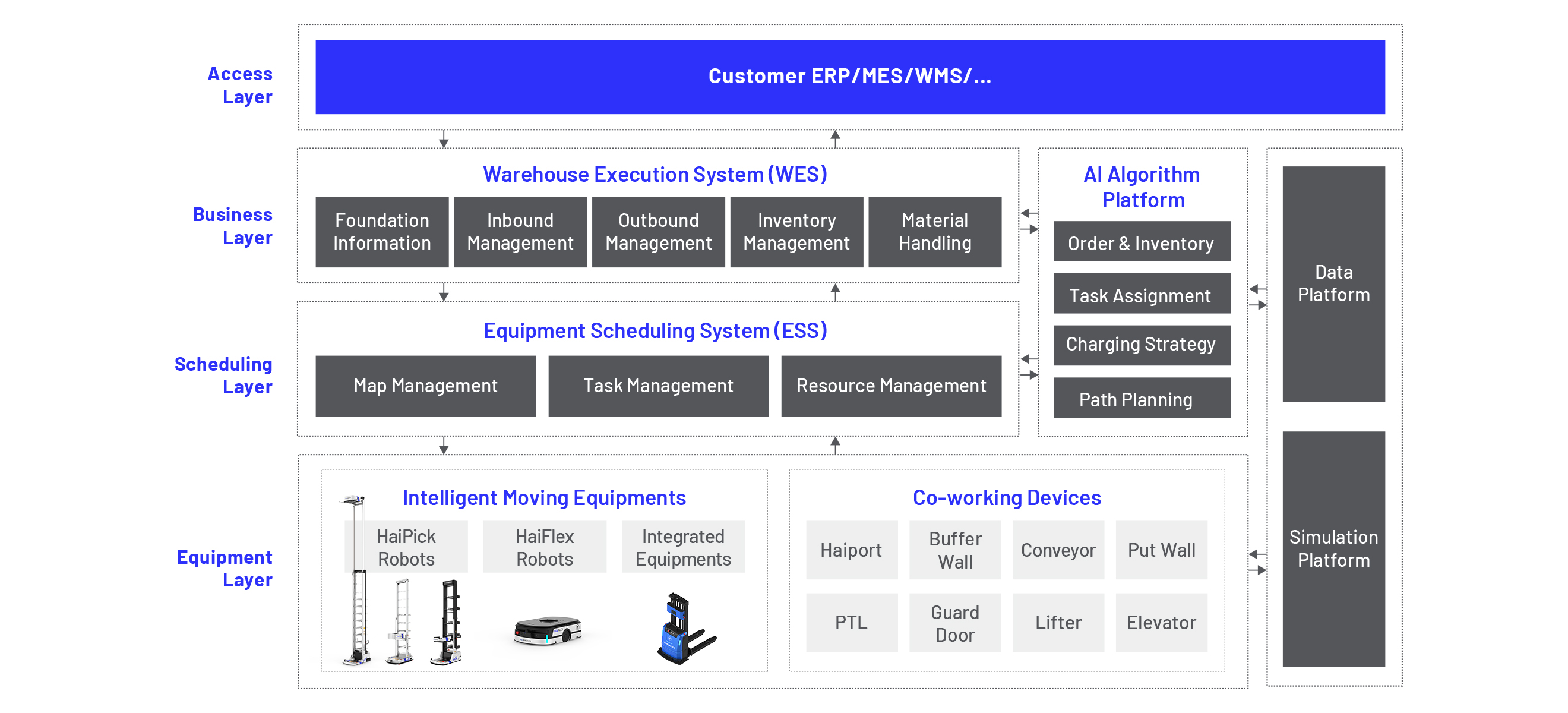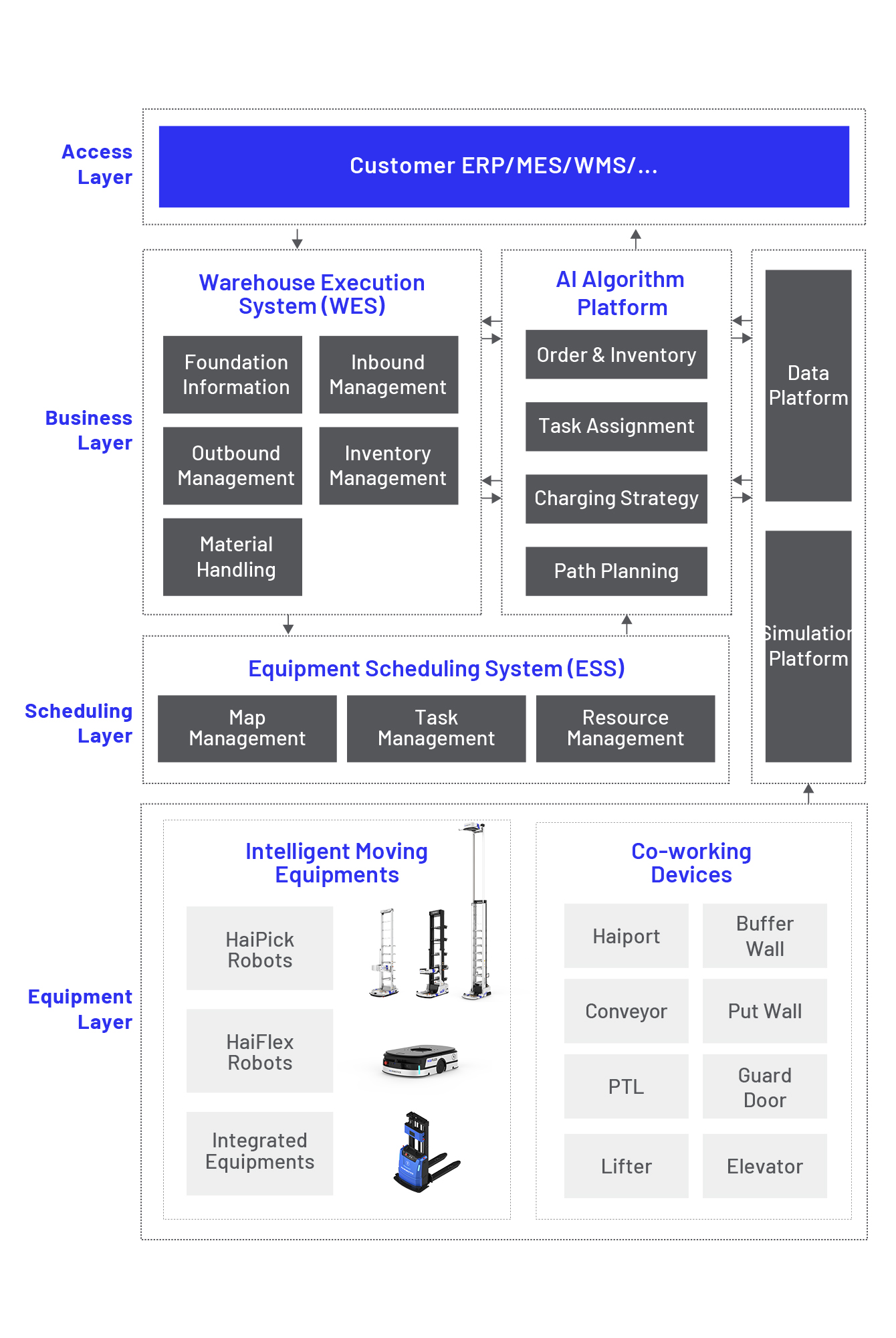 Thorough R&D
Results in rugged software with seamless integrations
Flexible Configuration
Meet the specific demands of the warehouse process

Flexible Scheduling
Support quick integration of multi-type equipment and coordination

Service Oriented Architecture
Modular in-house developed software environment easily adapts to any changes in your business

Intelligent Resource Orchestration
Optimize capacity and space utilization

Continuous Algorithmic Optimization
Achieve operational optimization with AI
Warehouse Execution System (WES)
Hai Robotics Warehouse Execution System (WES) is a smart system that seamlessly interfaces with upstream systems such as ERP, WMS, MES and supports operations such as outbound, inbound, inventory check, stock consolidation and material handling. The system features flexible workstation configuration and operation strategies, such as order grouping, order splitting, wave rule and heat strategy.
* Convenient Upstream System Access
We have experience in implementing projects with well-known ERP and WMS vendors, allowing for flexible field configuration to meet various docking requirements.
* Efficient Configuration and Algorithms
Configure workstation operation rules, support business strategies such as grouping and splitting orders, and have intelligent and efficient algorithms.
* Standard Deployment Plan
It has high availability with automatic switching in case of failure, as well as load balancing and data disaster prevention features.
* Stable and Secure Platform
Capable of processing up to 10,000 external requests per second. The data communication between robots uses encrypted components.
Equipment Schedule System (ESS)
Hai Robotics Equipment Scheduling System (ESS) integrates robots, equipment, and physical environment information into a unified management system, including task management, resource management, and map monitoring and other functions. It receives instructions from upstream systems to control various types of warehouse robots to perform material handling tasks.
* Rich Equipment Integration
Integrated with HaiPick, HaiPort, HaiFlex, conveyors, pick to light system, emergency stop switches, guard doors, etc.
* Multi-type Robot Mixed Field Operation
Mixed scheduling of multiple types of AGVs, such as scheduling HaiPick, HaiFlex.
* Efficient Task Linking
Multiple devices work in parallel to complete related tasks, reducing mutual waiting.
* Large-scale Robots Scheduling
Capable of scheduling over 1000 robots.
Data Platform
The Data platform collects and integrates data from various systems, including WES, ESS, and Robots. It centralizes the processing of data related to warehouses, robots, equipment, personnel, and commodities.
Using intuitive and easy-to-understand visualization interface, the value of data analysis can be demonstrated, such as warehouse traffic, work efficiency, providing management and decision-making basis for business managers.
Simulation Platform
The Simulation Platform creates a virtual warehouse by inputting map files, order files, inventory files, and demand configurations. By incorporating the actual customer scenario's demand parameters, the platform conducts a 1:1 simulation.
Using the simulation results of robot operations, the project plan is swiftly verified, and strategies and on-site configurations are promptly adjusted to promote the best solution. This helps customers achieve maximum project benefits.
AI Algorithm Platform
As the intelligent brain of the HAI Q system, the AI Algorithm Platform is responsible for the analysis, computation and decision-making of various systematic scenarios. Intelligent analysis, high-efficiency computing and smart decision-making remarkably improve the operating efficiency of the system to the greatest extent.
* Order Allocation Algorithm
Select orders from the order pool and assign them to workstations to maximize order timeliness, picking efficiency, and workload balance.
* Task Allocation Algorithm
Assign tasks to robots to ensure optimal transport efficiency and timely completion of transport tasks.
* Path Planning Algorithm
Minimize robot travel distance, achieve robot avoidance, queueing, and other actions, and reduce workstation downtime.
* Charging Algorithm
Provide stable and sufficient robot transport resources to ensure efficient completion of warehouse operations.
California Distribution Center
Semi-finished Pharmaceuticals Warehouse
Warehouse Project