Logistex and Hai Robotics Announce Strategic Partnership to Revolutionise Warehouse Automation
Logistex, a leading provider of automated materials handling and software (WMS) solutions, and Hai Robotics, the pioneer in Autonomous Case-handling Robots (ACRs), are pleased to announce their strategic partnership aimed at transforming warehouse automation.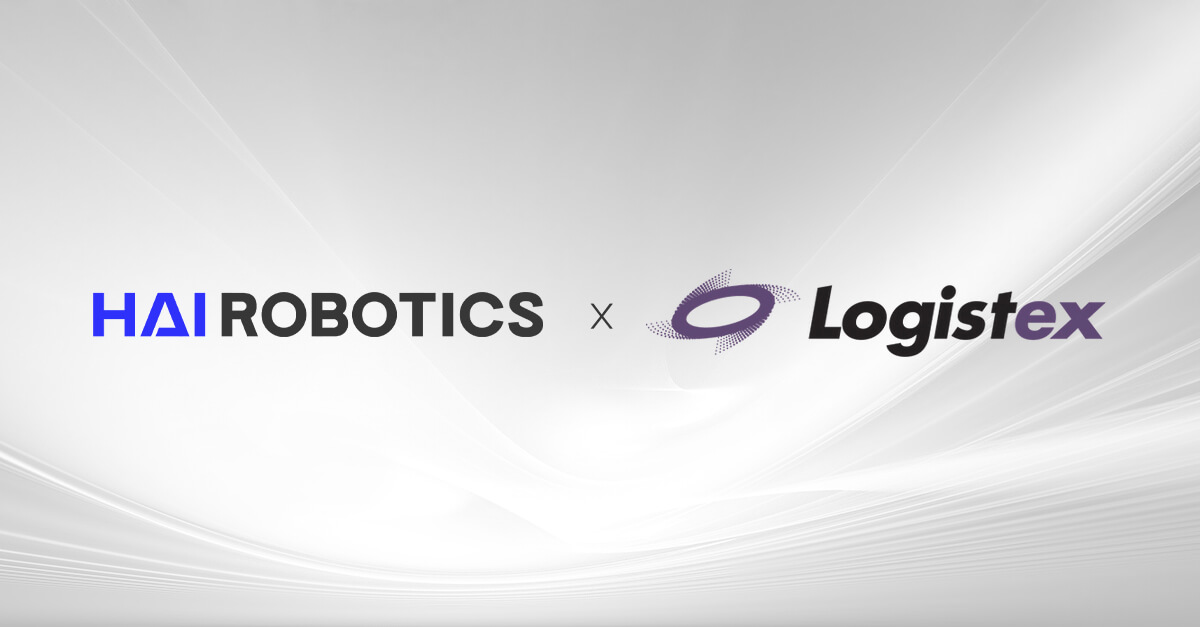 The collaboration between Logistex and Hai Robotics brings together the expertise of Logistex in designing and implementing advanced automated material handling systems and Hai Robotics' cutting-edge robotic technologies. This partnership will enable both companies to deliver innovative solutions that optimise warehouse operations, increase productivity, and enhance overall efficiency.
By combining the deep industry knowledge Logistex has with Hai Robotics' innovative robotics capabilities, the partnership will address the evolving needs of modern warehouses seeking intelligent and flexible automation solutions. The integration of Hai Robotics' ACRs into the Logistex comprehensive material handling solutions will enable seamless and efficient movement of goods, streamlining processes, and reducing operational costs.
Tony Gruber, Managing Director of Logistex:
"I am delighted that having previously secured our first order which includes a Hai Robotics ACR Goods-to-Person picking solution with a prestigious UK retailer, we have now signed a partnership agreement with Hai Robotics. This is a significant step in achieving our strategic vision of becoming the leading UK provider of integrated robotic solutions in our class. As an independent systems integrator, we are constantly looking to work with innovative technology partners. Hai Robotics' commitment to developing their class-leading telescopic ACRs strengthens the portfolio of integrated automated solutions that Logistex can provide to our current and future customers."
Through this partnership, Logistex and Hai Robotics aim to offer their customers enhanced operational agility, scalability, and adaptability. The joint solutions will empower businesses to optimise their supply chain, improve order fulfilment accuracy, and meet the ever-increasing demands of e-commerce and omnichannel distribution.
Damien Skinner, Country Manager UK & Ireland of Hai Robotics:
"We're excited to join forces with Logistex, aiding them in their journey to be the top integrated robotics solutions provider in the UK. Through our collaboration, Logistex's expansive network will gain access to Hai Robotics' innovative ACR goods-to-person picking systems, notably our acclaimed telescopic ACR, the HaiPick A42T, capable of a 10m reach for picking and storage tasks. Our adaptable, growth-ready goods-to-person solution will seamlessly serve the diverse warehousing demands of Logistex's partners. The initial ACR order from a renowned UK retailer is a testament to our system's alignment with modern industry needs, and we're eager to work hand in hand with Logistex for the successful execution of this initiative."
The partnership between Logistex and Hai Robotics represents a significant milestone in the automation industry. With their combined strengths, the companies are set to redefine warehouse automation, offering a new era of intelligent and adaptable solutions.
About Logistex:
Logistex provides automated materials handling and WES (warehouse execution system) software solutions for warehousing operations. We are specialists in storage and retrieval, order forwarding, robotics, picking and sortation systems. As an independent company with no manufacturing ties, we integrate products from across the industry without compromise. Our services cover warehouse/materials handling design & implementation, warehouse execution software and control systems, equipment refurbishment and maintenance, facilities management and 24/7 hotline support and spares.
To read more on opportunities Logistex can offer, visit our website: www.logistex.com