Hai Robotics Partners With Pop.capacity, a Pioneer in Frictionless Supply Chain
Hai Robotics will cooperate with Pop.capacity to provide the most advanced robotics and automation warehouse solutions to its customers in an effort to reduce friction points within their warehouses.
With this partnership, pop.capacity will be able to include Hai Robotics solutions as part of its portfolio to provide the most advanced robotics and automation solutions to its customers in an effort to reduce friction points within their warehouses.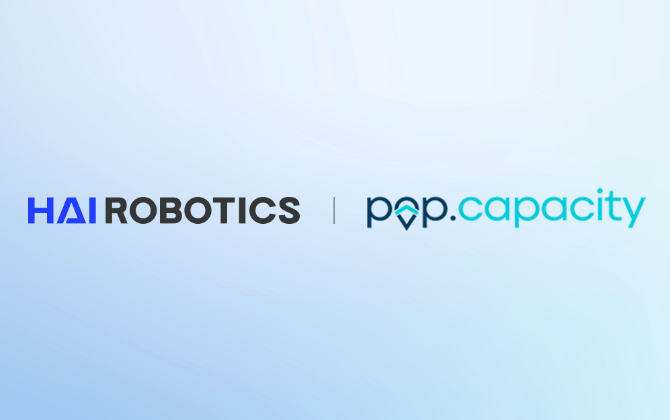 Partner with Pop.capacity
Pop.capacity is pioneering the frictionless supply chain. By combining years of supply chain experience, and a never before seen technology, they are uniquely positioned to bring a disruptive new solution to an industry full of unnecessary friction. Their platform blends industry knowledge, real relationships, and proprietary technology to provide both shippers and suppliers with a refreshing experience.
"We take every opportunity we can to influence our partners with technology," says Matt Fain, CEO of pop.capacity™️. "It's in our DNA. And by partnering with Hai Robotics, we enhance our warehouse capabilities by now offering robotics and automation solutions to our network. We offer shippers and carriers in our network, more capacity, and overall higher quality services. It's an important part of our effort to pioneer a truly frictionless supply chain."
Hai Robotics has developed a number of options for how pop.capacity warehouses can leverage its technology, including full-sized systems and several smaller "start-up" options.
"The partnership between pop.capacity and Hai Robotics is a natural fit. With pop.capcity pioneering the frictionless supply chain, their growing network can now leverage Hai Robotics for friction free-fulfillment in the four walls. Our flexible and scalable Goods-to-Person solution will be a great compliment to the warehouse needs of pop. capacity's partners." says Ben Gruettner, Director of Industry Sales of Hai Robotics U.S.A. Inc.
The HaiPick ACR systems can increase storage density by 80-to-130 percent while improving worker efficiency by as much as 300 percent! In addition, the robots can pick up to 32 feet (10m high).
With Hai Robotics technology fully deployed, warehouses see significant improvement in goods-to-person performance, as well as speed, flexibility, and scalability.
About Hai Robotics
Hai Robotics, the pioneer in Autonomous Case-handling Robot (ACR) systems, is committed to providing flexible, intelligent, and efficient warehouse automation solutions through robotics technology and AI algorithms. It aims to create value for every factory and logistics warehouse. The HaiPick ACR system, independently developed in 2015, is the world's first of its kind. Founded in 2016 in Shenzhen, China, Hai Robotics has offices in the U.S., Europe, Japan, Southeast Asia, Australia, Hong Kong, and Taiwan, serving customers from more than 30 countries and regions.