Hai Robotics to Present its Flexible and Scalable Solutions at Retail Supply Chain & Logistics Expo 2023
Hai Robotics, the pioneer in Autonomous Case-handling Robot (ACR) systems for warehouse logistics, will present its flexible and scalable HaiPick systems at Retail Supply Chain & Logistics Expo 2023. From February 28th to March 1st, the company will showcase its tallest ACR, the HaiPick A42T, a robot that can reach up to 10m high.
RSC&L Expo
Retail Supply Chain & Logistics Expo is the UK's leading retail focused supply chain & logistics event. With over 3,000 expected visitors and more than 200 suppliers, the event is set to provide a hub for retail professionals to learn about the latest innovations in the industry and create opportunities that help businesses implement tools and solutions to adapt their supply chain, achieve seamless warehousing and distribution systems and ultimately meet their customers' increasing expectations.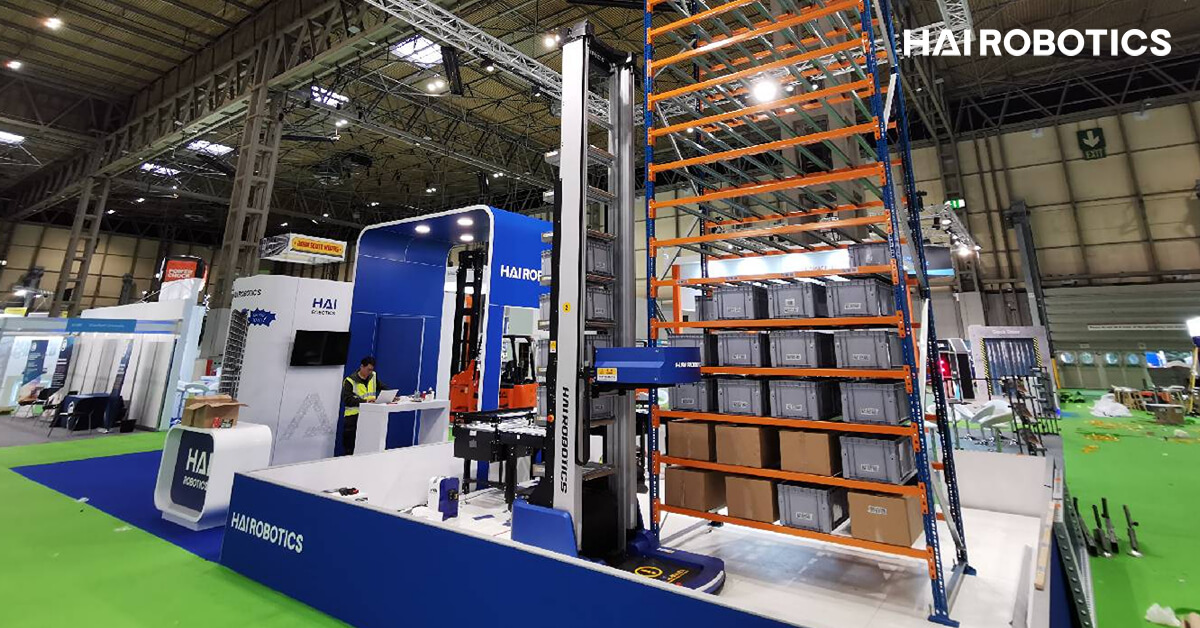 Our solution
Hai Robotics will display a live demonstration at stand SC2911 led by the HaiPick A42T, one of the tallest robots in Hai Robotics' ACR systems, with a standard picking height of 8m, which can be increased to over 10m. Featuring a telescopic mast, the robot can carry 8 loads simultaneously and feed workstations.
Compared with existing, especially traditional, warehouse automation solutions, Hai Robotics' solutions can deliver extraordinary benefits for UK customers. The ACR systems provide more flexibility in terms of expansion ability. It exponentially increases operational efficiency while requiring less time to implement and being more cost-effective than traditional automation solutions.
Join the seminar
The event will put in place over 100 seminars from industry experts to discuss current challenges of the industry. Hai Robotics' Country Manager for UK and Ireland, Damien Skinner, will give a speech on How Can You Scale Your Warehouse Solutions as Your Business Grows? with a focus on automation and e-commerce.
Warehouse automation solutions are in high demand, and it's not hard to see why. Squeezed by the ongoing e-commerce boom and a global labor shortage crisis, companies need these technologies to boost fulfilment speed and accuracy at a time when adding people is no longer an option.
This seminar will explain how Hai Robotics' solution uses advanced robotics automation solutions to provide high flexibility and scalability for any business application including e-commerce and 3PL.
Join the conference: March 1st, 14:00pm, at Theater 13
https://www.retailscl.co.uk/speakers/damien-skinner/
Where to find us?
Visit stand SC2911 to experience Hai Robotics's flexible, and scalable solutions.
Get a free ticket and book a meeting with our automation advisors.
About Hai Robotics
Hai Robotics, the pioneer in Autonomous Case-handling Robot (ACR) systems, is committed to providing flexible, intelligent, and efficient warehouse automation solutions through robotics technology and AI algorithms. It aims to create value for every factory and logistics warehouse. The HAIPICK ACR system, independently developed in 2015, is the world's first of its kind. Founded in 2016 in Shenzhen, China, Hai Robotics now has more than 500 projects globally and offices in the U.S., Europe, Japan, Singapore, Hong Kong and Taiwan, serving customers from more than 30 countries.
Learn more: www.hairobotics.com