How Autonomous Case-handling Robots (ACR) Enable Smart Warehousing
Autonomous case-handling robots  (ACR)  can take part in the goods to person smart automation solutions to tackle warehousing challenges. ACR solution optimizes the warehouse picking process, which allows companies to reduce costs significantly while increasing warehouse efficiency.
As global online shopping continues to rise, companies are faced with new challenges. Leaders are leveraging warehouse automation solutions such as smart robotics. To meet those challenges, warehouse managers have a number of possible goods to person solutions to tackle warehouse automation. 
Autonomous case-handling robots can take part in the goods to person automation model in a warehouse. They provide a shuttle-type retrieval function to handle totes from static shelves. ACRs optimize the warehouse picking process, which allows companies to reduce costs significantly while increasing warehouse efficiency. 
Q&A About Smart Warehousing
Below is the Q&A between Outlook Series' Michael Lippis and Bobby Clay, VP of Growth at Hai Robotics U.S.
Q: Do you see eCommerce growth continuing?
A: Definitely. The question is, how much and how long? The global pandemic clearly accelerated the growth curve for e-commerce and a significant portion of that growth appears to be permanent. You mix on Black Friday and Cyber Monday and I suspect we'll see continued healthy growth for the foreseeable future.
Q: What are autonomous case-handling robots?
A: Hai Robotics pioneered the concept of what we call Autonomous Case-handling Robots (ACR) systems. We not only pioneered the technology but the breakthrough capabilities for warehouses and factories that it provides. 
ACR is an intelligent, efficient, and flexible goods to person technology. 
From the intelligent standpoint, it includes a comprehensive software platform that has a full-blown WMS system, robot control system, and equipment-scheduling system at an intelligent algorithm platform. From a flexibility standpoint, it's able to handle cartons, cases, and totes, of varying sizes. It's customizable to meet the customer's unique warehouse automation transformation requirements. And then finally, it's efficient. It allows very rapid deployment within six weeks from the robot's arrival on site. 
Q: How does the cost performance vary with goods to person systems?
A: They vary significantly. Prices can vary by as much as seven figures. Deployment times can vary by 6 to 12 months or more. Operating efficiency and storage capacity improvements can be dramatically different. So we're very proud of our track record of more than 200 deployments worldwide, all of them being on time and meeting the scope that the customer was expecting.
Q: Could you compare ACRs, AMRs, and collaborative robots?
A: An autonomous mobile robot (AMR) is really any robot that can understand and move through its environments without being overseen directly by an operator. Collaborative robots are what some people call Co-bots, which are robots that are intended to work hand in hand with employees. These machines focus more on repetitive tasks, such as inspection and picking, to help workers focus more on tasks that require problem-solving skills. Then there is AS/RS, or automated storage and retrieval system. They consist of a variety of computer control systems for automatically placing and retrieving loads from defined storage locations. We position ACR as really next-generation warehouse automation, because of the advancements that we've made in software efficiency and flexibility.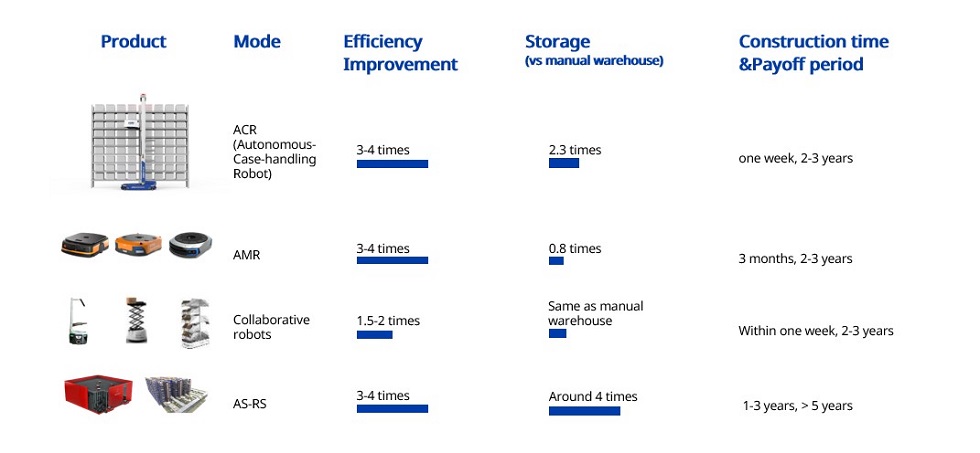 Q: How does ACR address eCommerce warehouses' pain points?
A: ACR addresses three pretty significant pain points. The first one projects deployment time and project success rates. We do full compliance with all regulations and OSHA standards. We have gone through a lot of effort to get certifications like CE, SGS, and ETL. And we can actually do the deployment in six weeks, from robot arrival onsite. 
The second pain point is reliability and sustainability. Those are huge issues for everybody, right? We've only been in business for five years, but we have sites that have been running for more than three years, our systems drive literally 100% accurate accuracy capabilities. 
The third is flexibility and scalability, which have been a challenge for robotics companies. It's a huge differentiator for us. Our projects can range from, a smaller project with maybe two robots, to a bigger project with maybe 150 robots. In fact, it often happened that one of our customers who did a small implementation - it's maybe five or six robots, and then the next project maybe 100 robots or something like that. Easy software integration also makes flexibility possible. We literally are able to integrate any way the customer likes. We can integrate with lots of things outside of our technology, such as other AMRs, such as robotic arms, or even things like Kiva robots.
Q: What kind of benefits does ACR deliver?
A: What I'm fond of saying is, that we allow you to do it better, faster, and cheaper. Specifically, operational efficiency increases by 300% to 400%. Storage density can be increased by 230% or more. We enable customers to get literally 100% picking accuracy. We address labor shortages, which is becoming a big issue last year. We enable quick business transformation - that's a big part of that, it's because of the rapid deployment capability that I mentioned. If you can do all of those things, you're generally going to get not only an ROI, but you're gonna get it pretty quickly.
Q: Which industries are suitable to leverage ACRs?
A: It makes sense for really a broad range of industries and verticals. But for us, our top verticals and industries are apparel, e-commerce, 3PLs, retail, and manufacturing - those are really the top ones for us. We also do a fair amount of electronics as well as pharma, energy, and even automotive.
Q: What kind of services does Hai Robotics offer?
A: We provide a variety of warehouse automation solutions that are focused on enhancing warehouse operation efficiency. The way it starts is we go onsite. We observe how the customer works, assess their workflow, and redesign their warehouse to better suit their business model. Then we introduce the appropriate automation equipment that includes ACR, AMR, might be robotic arms - whatever is necessary to help drive them to transform their warehouse operations to next-generation logistics.
Q: What warehouse management systems and ERP systems can be integrated with the HaiQ software platform?
A: That's another strength of our system. It comes back to the flexibility that we have. The answer to that question is, that we can integrate them with anything. We can virtually integrate with any WMS, WCS, any ERP system. In many cases, we're integrating with systems that have been developed by the client. We have a very strong software development team so our source system can be just super flexible and capable of integrating with anything. 
Q: When it comes to setting up a project, how do you go about calculating the number of robots that will be required?
A: It's actually fairly straightforward. There are three inputs for that. We take a look at the number of orders per day, the number of unique items per order, and then the efficiency factor of the robots, which is, in other words, the number of tokens per hour. And then based on those inputs, we can calculate the number of robots required for both inbound and outbound.
Q: Can you share a use case?
A: What I'll share with you today is the use cases in the apparel and e-commerce space. That's a real sweet spot for us. I can tell you about one that's been alive for two years in Shanghai, China, - SF DHL.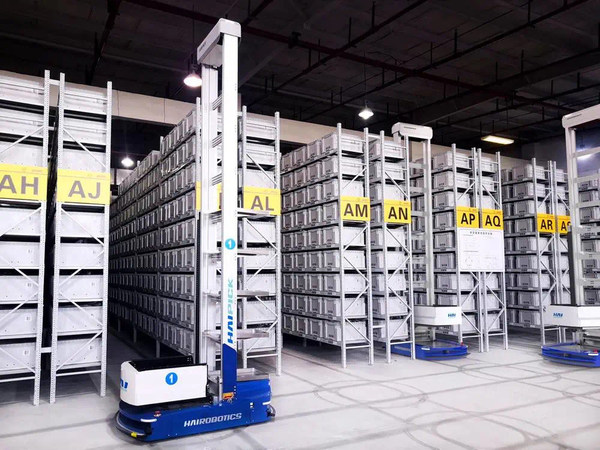 The situation with these guys was when we started this project, they were struggling in several areas. The first area was they're having to do manual picking, they were struggling with low efficiency and the whole process was very error-prone. Secondly, they had insufficient storage capacity. They had surging volumes during shopping events, and therefore they needed fast deployment before peak season. Then interestingly, they also needed a higher level of security. 
So we deployed our system in one week and went live one month later. And the benefits to SF DHL are substantial. First of all, they went to a picking accuracy of 99.99% and enhanced their security with automation and unmanned operation. Their storage capacity increased by 80%, inbound efficiency increased significantly and outbound efficiency increased by 3.5 times. They are successfully operating during their local online shopping festivals which are known as 618 and Double 11. 
Click to enjoy the complete 20-minute audio 
Related Article-
Leveraging warehouse automation with autonomous case-handling robots (ACR)