How to Create an Efficient Warehouse Returns Process?
Hai Robotics is committed to helping customers achieve an efficient return process in warehouse. By using our ACR system to optimize the picking, sorting, and storage processes of returns, you can significantly maximize efficiency and obtain financial benefits. Upgrade Now!
Did you know that at least 20% - 30% of all products ordered online are returned compared to almost 9% in brick-and-mortar stores? The overall rate is even higher during the holiday season. Is your warehouse prepared to deal efficiently with returns? What can you do to optimize your current returns process? As total retail sales continue to accelerate from sustained consumer demand, it is no surprise that the overall rate of returns has also increased. Returns not only result in more labor costs, but also in higher stock costs due to slower stock turnover.
Reasons for return
According to Invesp, some of the top reasons why consumers return products include damaged products, the product looking different from pictures, receiving the wrong item, and other reasons.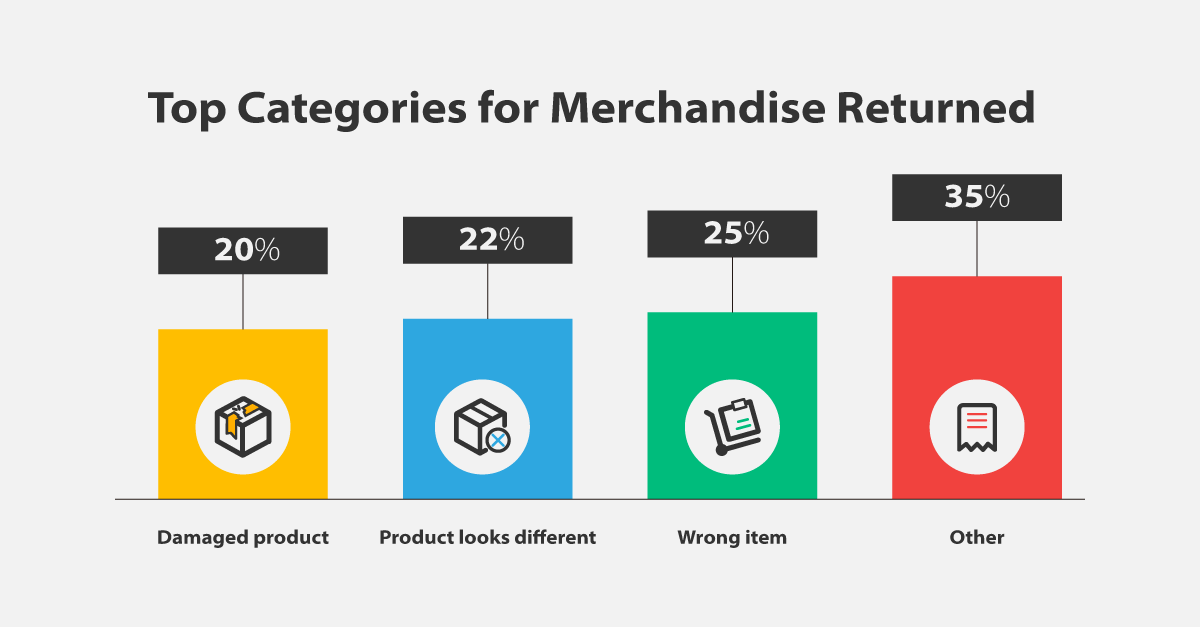 Unsurprisingly, the number of returns peaks during the holiday season. According to Shopify a quarter of holiday shoppers buy items with the intention of returning them at a later date. Whether it's gifts a friend doesn't like or trying to reclaim some money they spent in a holiday-inspired splurge, it's why ecommerce brands receive the most returns throughout December, January, and February.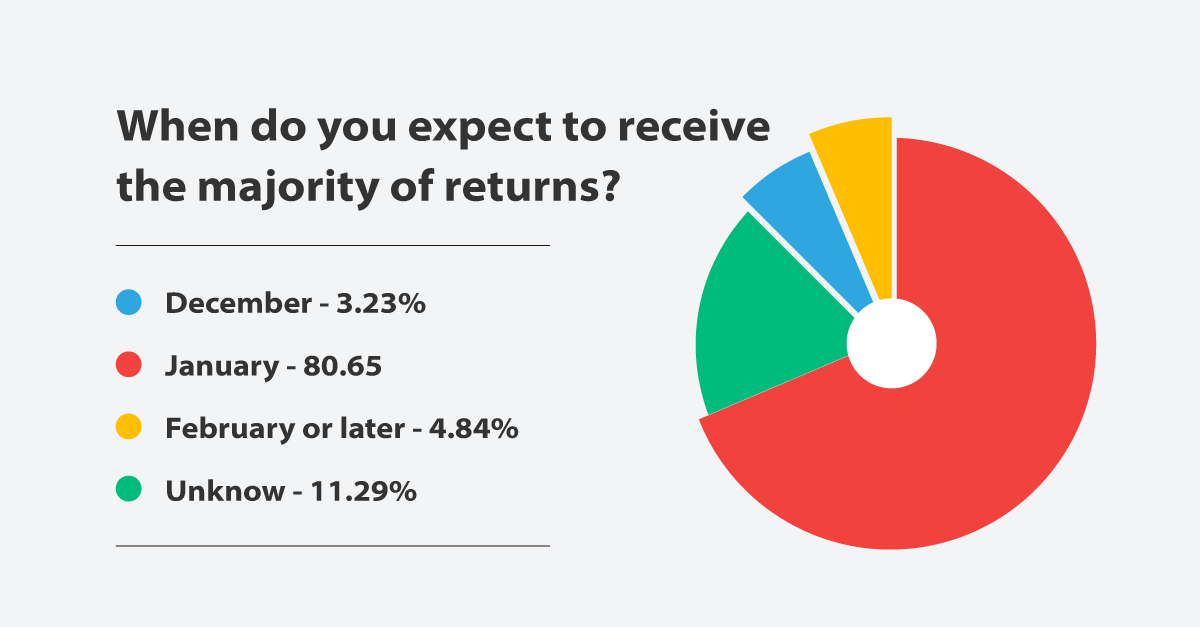 (Source: shopify.com)
What happens in a warehouse when items are returned?
Returns are very tricky because they are irregular inbound items, and they need a quality check before being put away into storage. Typically there are two scenarios. The first one is the returned items from stores, which are sent back to the warehouse at the end of the quarter or even weekly or daily. In the second scenario, we have the items returned from customers directly, items purchased online mainly, representing daily returns. Now the warehouse receives these items, and they do quality control.
The more diverse your SKUs, the more complex returns are. SKUs are stored in different categories, multi-level sorting on shelves, and in different warehouse zones. Can you imagine the management complexity and labor intensity for all this to be done manually?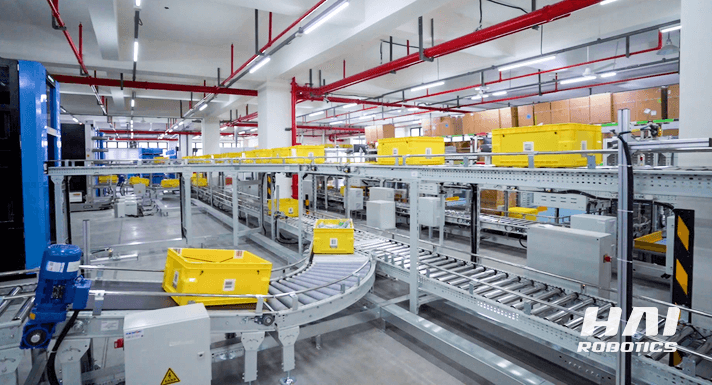 How ACR System is changing the warehouse returns process
An efficient returns process is important because it maintains an efficient flow of goods. The process reduces costs, creates value, decreases risk, and completes the product life cycle.
How can warehouses and distribution centers deal with returns, keeping costs low and operations effective?
By using Autonomous Case-handling Robot (ACR) system to optimize the picking, sorting, and storage processes of returns, you can significantly maximize efficiency and obtain financial benefits. Faster processes mean a higher turnover of returned items. This reduces the time a product stays on a shelf, maximizes picking and storage, and reduces picking errors.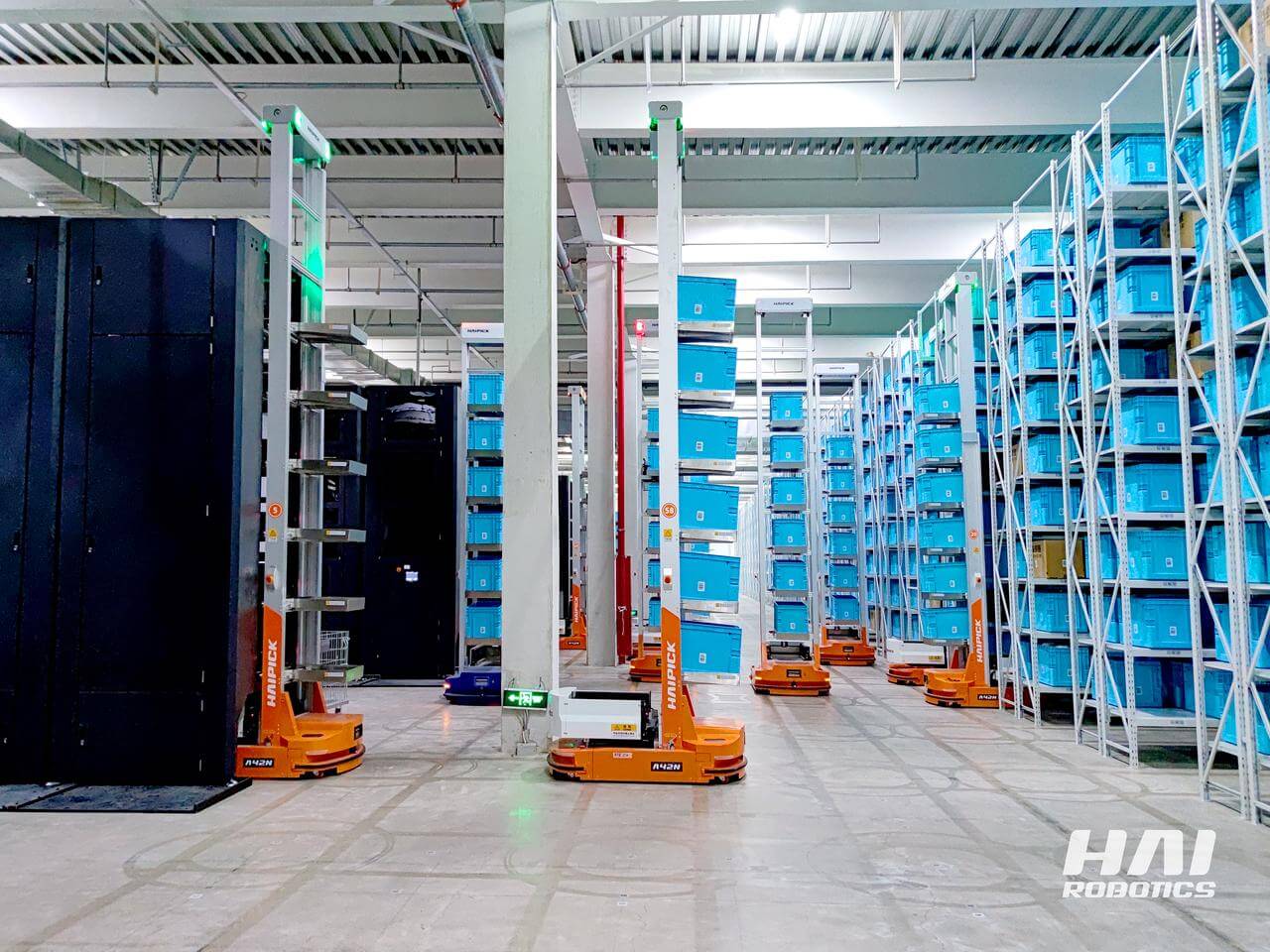 Case study analysis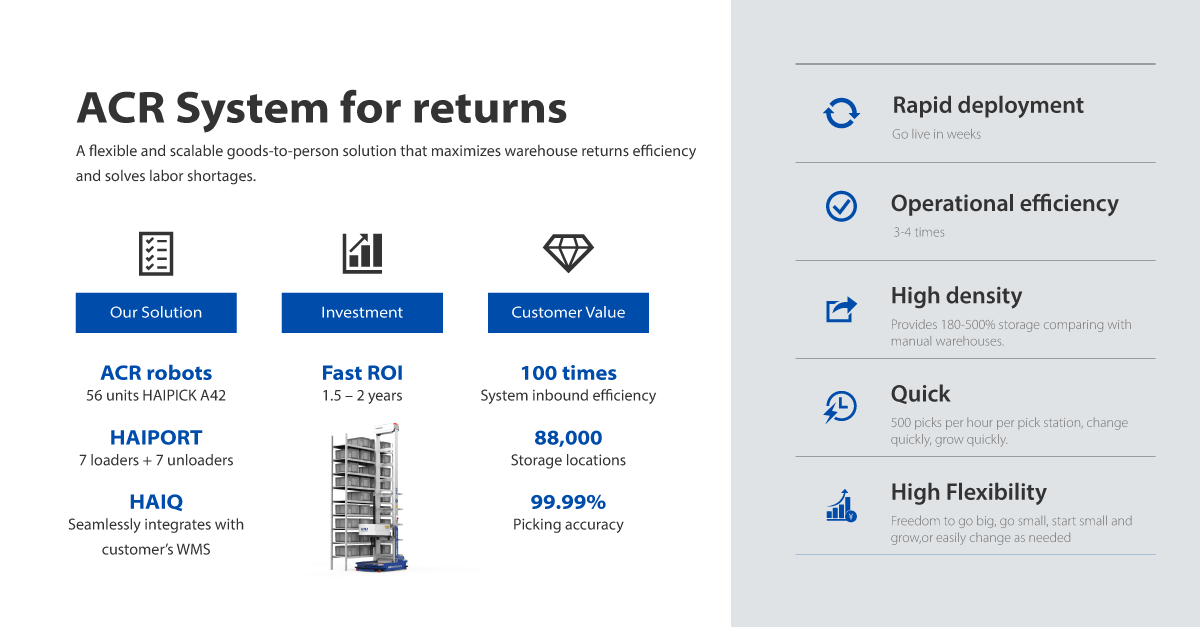 One of our customers, a leading designer brand based in China, handles both B2B and B2C returns in its warehouse. Its warehouse with a total area of 40,000 m², consisting of 5 floors, with HAI ROBOTICS solution (ACR system) implemented on the 4th floor.
Previous to automation, the company handled returns manually, including putaway, picking, and sorting processes. It is important to note that 30 FTEs were needed for putaway and 30 FTEs for picking in the previous manual operation.
After implementing ACR system, operators only needed to put the returned items into a tote, and that's it. Totes are automatically transported to HAIPORT-powered workstation for putaway. With ACR system, the putaway is entirely autonomous, and the picking process requires only 13 operators at the workstations.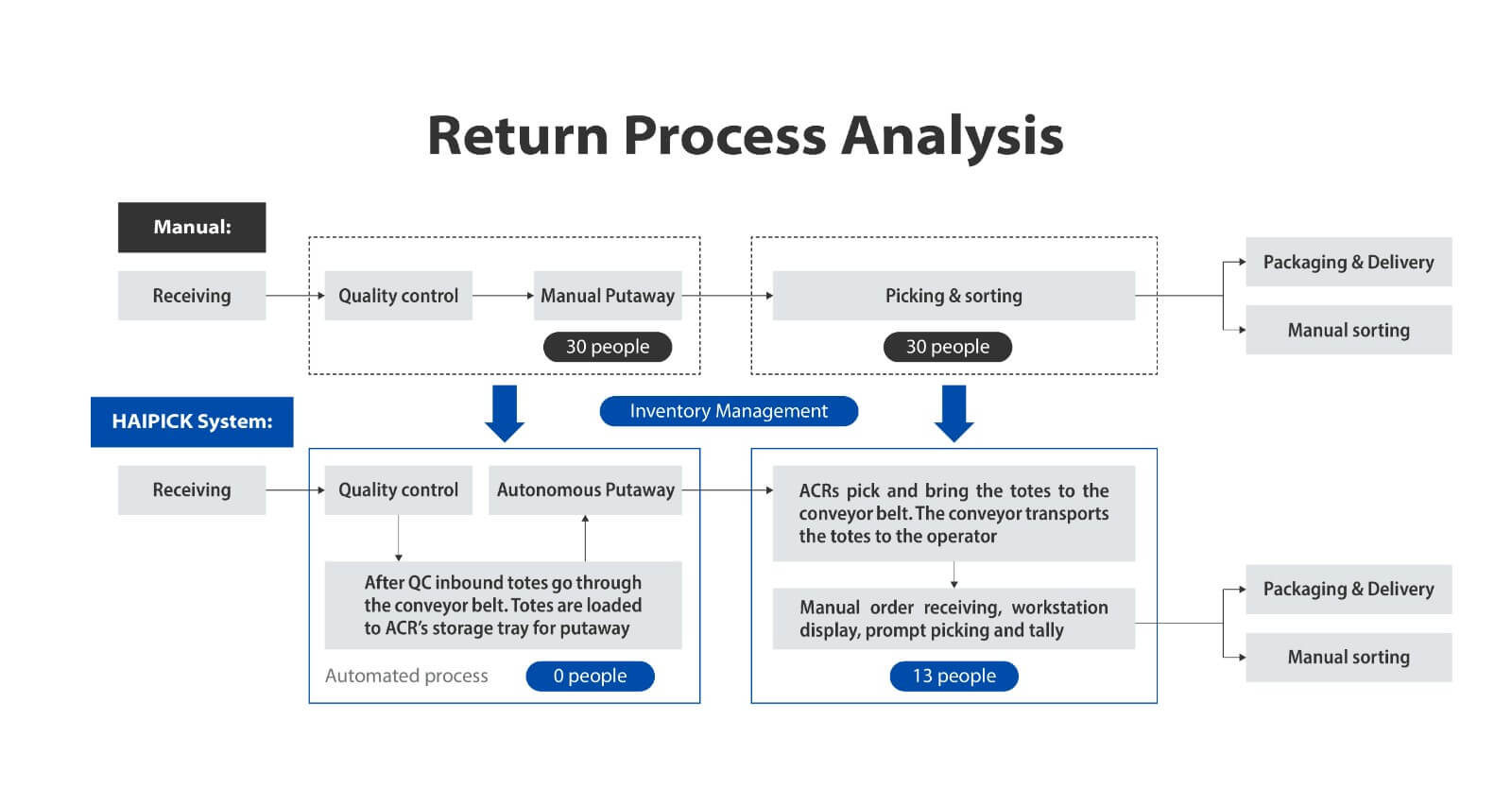 The solution features the HAIPORT-powered workstation, a one-stop case-handling goods-to-person solution introduced to the market in 2020 that enables simultaneous loading and unloading of totes in just seconds. The HAIPORT loads up to 8 totes onto the ACR robot's trays and puts them away into storage. Speeding up the unloading and loading of totes and increasing picking efficiency by up to two times for each workstation.
After using ACR system, the customer achieved direct inbound putaway and storage. In other words, once items are put on the totes, ACRs do all the work intelligently.
After quality inspection, the goods are directly put into the totes that are transported by the conveyor belt, realizing the inbound process.
The goods to person robots will put away or store the tote intelligently without the sorting process required
Increased comprehensive efficiency by 100 times
Another significant advantage is that the customer could continue to use their existing WMS system, with the HAIQ ESS system integrating seamlessly and allowing for intelligent sorting, handling, and storage of totes.
Warehouses worldwide face a major shortage of skilled labor due to the rising demand for logistics services. The potential for robots to fill in the gap is big, and, from industry insiders' perspective, the demand is big too. With ACR system, labor demand decreased from 60 FTEs dedicated to returns handling and picking before automation to 13 FTEs after automation, allowing the company to deal with labor shortages while reducing costs. But labor savings are just one part of the benefits. Manual putaway of the returns is very slow. And a slow return inventory cycle means waste and overstock of return goods during peaks.
The flexibility of the ACR system enables ACR robots, in many cases, to simply use the client's existing totes. Even shelves can sometimes be reused and integrated with the ACR system. In addition, there are no single points of failure by using robots, which means higher uptime and lower maintenance costs.
If we look at both cost and value for a complete picture of the ROI, the ACR system delivers:
Increased storage efficiency, making full use of vertical space.
Increased picking efficiency and accuracy.
Autonomous and fast processing of returns, allowing optimal inventory levels.
Flexible and scalable automation. Spend only the CAPEX in line with your business needs, and scale up as you grow.
Source cited:
Khalid Saleh. "E-commerce Product Return Rate — Statistics and Trends [Infographic]" Invesp 
Elise Dopson. "The Plague of Ecommerce Return Rates and How to Maintain Profitability." Shopify, Aug 25, 2021